Valley City, Ohio – August 30, 2017 – Automotive parts manufacturer, Fuserashi International Technology (F.I.T. Inc.), has added a new machine, the Sakamura BPF-660SS, significantly expanding their current and future offerings to clients.
The Sakamura BPF-660SS is a cold part former. Cold formers, which mold raw materials without heat, manufacture parts like connecting rod bolts and ball joints. The Sakamura can also be used to create parts needed for automotive production. The new investment will help meet the growing demand of current customers but also the future needs of new clients as F.I.T.'s business grows.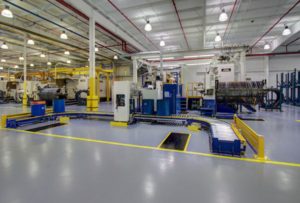 "It secures our position with a couple of our main customers," Keith Albrecht, General Manager of Fusrashi International Technology (F.I.T. Inc.) said. "It offers us an opportunity for future development with those customers as well. There are opportunities within some of the products that we were importing from Japan and selling that we can now localize."
Planning for the new machine was an extensive effort. F.I.T. said the project has been in the works for a year and a half. Along with bringing in the new equipment, the F.I.T.'s service expansion included adding 40,000 additional square feet to their operation.
Officially installed in October 2016, the Sakamura BPF-660SS is a critical part of F.I.T.'s plan to better serve their business interests and clients. The machine will give F.I.T. the flexibility to make bigger and more complex parts that was once beyond their capabilities.
"We have gained in terms of both immediate capability for some of the parts we are supplying and in terms of what our options are for new products," said Albrecht.
Getting the Sakamura BPF-660SS operational was an efficient process as current cold-forming machine associates were cross-trained on the new machine.
About F.I.T.
Established in February of 1996, F.I.T., Inc. is the first international subsidiary of Fuserashi Co., Ltd. Fuserashi is a Japanese manufacturer of hot and cold formed precision metal products and fasteners, primarily for various vehicle applications, with a tradition of quality, service, and performance. Since opening its doors over 20 years ago, F.I.T. has more than quadrupled its footprint, both in terms of facility size and equipment. With four major plant expansions, substantial employee growth, and an accelerating customer base, F.I.T. continues to innovate in its field.
Media Contact
Jennifer Connelly
Human Resources & Administration Manager
330-273-0140